Heritage Capital Research is an independent, privately owned, investment advisory firm located in the Denver area. The firm focuses on providing customized, portfolio management services to financial professionals.
Heritage Leadership
David D. Moenning | Founder, Chief Investment Officer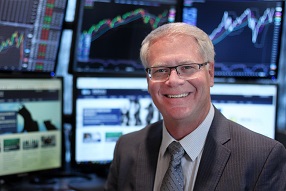 David Moenning began his investment career in 1980 and has been an independent money manager since 1987. Dave became a partner in a private money management firm in 1986 and in 1989 founded his own firm, Heritage Capital Management, which emphasized a risk-managed approach to the markets. Most recently, Dave was Chief Investment Officer for an RIA firm responsible for $1.2 billion.
Mr. Moenning graduated Northern Illinois University, where he was a scholarship track athlete, in 1980 with degrees in Computer Science and Economics. Dave is Past President and Chairman of the National Association of Active Investment Managers (NAAIM), an organization dedicated to active management strategies. Dave served as President during the 2013 fiscal year and Vice President/Agenda chair during the 2012 fiscal year. In addition, Dave serves a member of the Rydex Dynamic Advisory Board.
Mr. Moenning is also a sought-after author on the markets. His "State of the Markets" blog, which began in the late 1990's, has blossomed into an award-winning daily market report focusing on the key drivers to both short- and long-term market movements. Dave's writing has been featured on USA Today, State of the Markets, Seeking Alpha, Benzinga, MarketWatch, TraderPlanet, iStockAnalyst, Zacks, StreetInsider, TheStreet, InsideFutures, MarketFN, and many other media outlets.
Dave resides with his wife Catherine in Golden, Colorado.
Jeff Pietsch JD, CFA | Director Global Investment Strategy
Jeff Pietsch, JD CFA is a Registered Investment Adviser Representative who has worked in the active and alternative investment industry since 2001. In addition to heading Global Investment Strategy at Heritage, Jeff is Managing Director of Capital Advisors 360, LLC (CA360). Prior to forming CA360, he managed his own private investment fund and authored a popular financial education newsletter.
Mr. Pietsch is a recognized writer and sought-after guest speaker on the topics of active portfolio management and quantitative trading system development and analysis. In addition to his practice at CA360, Mr. Pietsch also consults and serves as a sub-advisor to other RIAs, sharing his institutional investment insights and approaches.
Mr. Pietsch has been a Chartered Financial Analyst charter holder since 2003. He also holds an MBA in finance from Northwestern University's Kellogg School of Management, a JD from the Northwestern University School of Law, and a BSc from Cornell University.
Jeff resides in Eastsound, WA with his wife Jennifer.
Greg Syler | Compliance Consultant

Greg Syler is a Compliance Consultant with over 25 years of experience in the Financial Services industry. He has worked for large broker dealers and Registered Investment Advisors. He has held positions including Operations Manager, Compliance Manager and Chief Compliance Officer. He has held industry licenses including the 7,9,10,63 and 66. He earned his Bachelor of Science degrees in both Finance and Banking from San Francisco State University.
Greg resides in the city of his dreams San Francisco, California with his lovely wife Monica and two children. He is active in the outdoors and enjoys, camping, biking and skiing. Greg is also a strong member of his community and volunteers as a youth basketball and baseball coach. Additionally he is a founding member of a playground group that rebuilds and revitalizes playgrounds in San Francisco.
Have Questions? Want more Info? Contact Heritage or give us a call at (303) 670-9761