HCR's Founder and Chief Investment Officer, Mr. David Moenning, has been serving the needs of individual investors since 1980 and has been managing client portfolios since 1989.
At HCR, we believe that diversifying portfolios not only by asset class but also by investing methodology, investment strategy, and time-frame is fundamental to long-term success, especially in today's fast-changing markets. For this reason, HCR's portfolio services  employ a modernized approach to portfolio design via multiple investment management strategies and approaches.
The overarching goal for our investment programs is to participate in bull markets and then strive to preserve capital during severely bearish cycles. In addition, there are three primary tenets to our management philosophy:
I. Adapt to changing market environments
II. Focus on market leaders 
III. Manage risk - every single day! 
HCR Portfolio Offerings
HCR offers a robust array of portfolio strategies. Below is a summary of the HCR offerings, sorted by what we call "Methodology Style Boxes" followed by an explanation of each portfolio series offered.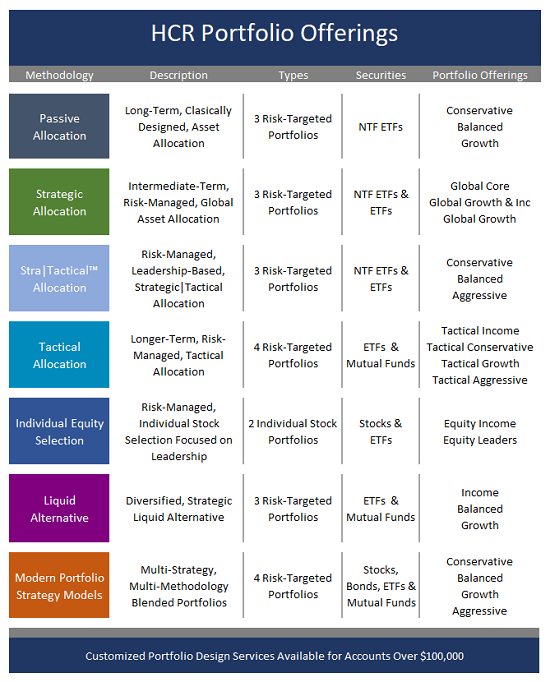 View Larger Image
HCR Portfolio Offerings Summary
Passive Allocation Portfolios:
Longer-term "core" asset allocation portfolios utilizing a capital market assumption approach. HCR offers 3 risk-targted portfolios that employ low-cost, tax-efficient NTF ETFs.
Conservative
Balanced
Growth
Strategic Allocation Portfolios:
Intermediate-term, global asset allocation programs utilizing a strategic, risk managed approach to allocation in terms of class under- and over-weighting. HCR offers 3 risk-targeted, strategic portfolios.
Global Core
Global Growth & Income
Global Growth
Stra|Tactical™ Allocation Portfolios:
Risk-managed portfolios that straddle both the strategic and tactical methodology lines. These multi-strategy, multi-time-frame portfolios incorporate both longer-term "core" holdings as well as leadership-based strategies. HCR offers 4 risk-managed, Stra|Tactical™ portfolios.
Conservative
Balanced
Aggressive
Tactical Asset Allocation Portfolios (TAAP):
Longer-term, tactically risk-managed portfolios designed to stay in tune with the primary market cycle and to manage the risk of the overall market environment. HCR offers 4 risk-managed, tactical allocation portfolios.
Tactical Income
Tactical Conservative
Tactical Moderate
Tactical Aggressive
Equity Selection Portfolios:
HCR offers a risk-managed, multi-strategy, multi-manager, equity portfolio. The portfolio focuses on the top rated stocks in each S&P sector as well as industry leadership, and incorporates a hedging strategy during severely negative markets.
Equity Leaders Portfolio
Equity Income Portfolio
Liquid Alternative Portfolios:
Longer-term, strategic alternative class offerings. HCR offers 3 risk-targeted portfolios focused on the liquid alternatives space.
Alternative Income
Alternative Balanced
Alternative Growth
Blended Models:
Portfolios utilizing a modern approach to diversification by employing multiple styles, multiple strategies, and multiple time-frames - all in a single portfolio. HCR offers 5 risk-targeted "modern" portfolio designs.
Income
Conservative
Balanced
Growth
Aggressive
Custom Designed Portfolios:
For investors with over $100,000 to invest, HCR can customize portfolios to specific client needs and risk tolerance.