HCR offers an array of portfolio strategies across multiple investing methodologies. We think of these strategies as the tools in our toolbox used to build customized portfolios.
Below is a summary of the HCR offerings, sorted by what we call "Methodology Style Boxes" and a brief explanation of each portfolio series offered.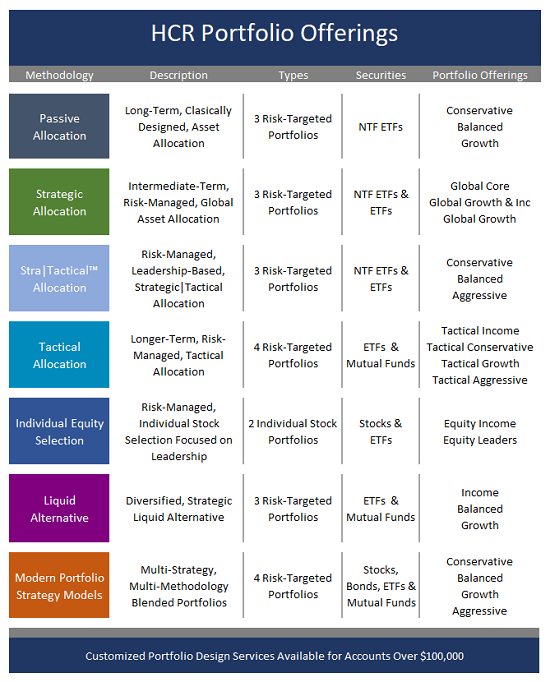 View Larger Image
HCR Portfolio Offerings Summary
Passive Allocation Portfolios:
Longer-term "core" asset allocation portfolios utilizing a capital market assumption approach. HCR offers 3 risk-targted portfolios that employ low-cost, tax-efficient NTF ETFs.
Conservative
Balanced
Growth
Strategic Allocation Portfolios:
Intermediate-term, global asset allocation programs utilizing a strategic, risk managed approach to allocation in terms of class under- and over-weighting. HCR offers 3 risk-targted, stragetic portfolios.
Global Core
Global Growth & Income
Global Growth
Stra|Tactical™ Allocation Portfolios:
Risk-managed portfolios that straddle both the strategic and tactical methodology lines. These multi-strategy, multi-time-frame portfolios incorporate both longer-term "core" holdings as well as leadership-based strategies. HCR offers 4 risk-managed, Stra|Tactical™ portfolios.
Conservative
Balanced
Aggressive
Tactical Asset Allocation Portfolios (TAAP) - Winner of 2018 NAAIM Shark Tank Award
Longer-term, tactically risk-managed portfolios designed to stay in tune with the primary market cycle and to manage the risk of the overall market environment. HCR offers 4 risk-managed, tactical allocation portfolios.
Tactical Income
Tactical Conservative
Tactical Moderate
Tactical Aggressive
Equity Selection Portfolios:
HCR offers a risk-managed, multi-strategy, multi-manager, equity portfolio. The portfolio focuses on the top rated stocks in each S&P sector as well as industry leadership, and incorporates a hedging strategy during severely negative markets.
Equity Leaders Portfolio
Equity Income Portfolio
Liquid Alternative Portfolios:
Longer-term, strategic alternative class offerings. HCR offers 3 risk-targeted portfolios focused on the liquid alternatives space.
Alternative Income
Alternative Balanced
Alternative Growth
Blended Models:
Portfolios utilizing a modern approach to diversification by employing multiple styles, multiple strategies, and multiple time-frames - all in a single portfolio. HCR offers 5 risk-targeted "modern" portfolio designs.
Income
Conservative
Balanced
Growth
Aggressive
Let's Talk Cost
Since HCR employs a consultative approach designed to meet the specific needs of advisors and investors alike, we do not utilize a set fee schedule. And since the size and scope of portfolio designs can vary widely, we work with each advisor/investor on a one-on-one basis. Please Contact Us for details.
Have Questions? Want more Info? Contact Heritage or give us a call at (303) 670-9761