With this being one of the last Friday's of the summer vacation season, we can probably expect trading volumes to remain light today. But make no mistake about it; all eyes will be on Jackson Hole this morning where both Janet Yellen and Mario Draghi are slated to speak.
The key here is that Fed Chairs have made a habit over the years of foreshadowing what is to come next in terms of monetary policy. And with changes anticipated both here and across the pond, logic would suggest that both Yellen and Draghi could use this event to let the world know when those changes are expected to occur.
Here in the U.S., the topic at hand is the Fed's balance sheet. With the Fed's holdings having exploded from less than $1 trillion in 2007 to more than $4.5 trillion today, the key question becomes, when will the FOMC start selling some of their holdings? Currently, the short answer is soon. As in very soon. As in next month.
Many analysts believe that Janet Yellen has already telegraphed the move. So, traders will be listening for confirmation this morning. If Ms. Yellen does indeed tell us that balance sheet reduction is set to begin at the September meeting, I wouldn't expect much reaction from the market. However, if she waffles, or talks about the FOMC remaining data dependent, then volatility could pick up - in either direction.
On one hand, traders could take a delay in balance sheet reduction as a positive because it means rates are likely to stay lower for longer. However, this could also be taken as a sign that the Fed sees weakness in the economy. At this stage of the game, with stock market valuations where they are, this could be a problem.
On the other side of the Atlantic, the Europeans are behind the Fed's curve at this stage of the game. Super Mario's gang is still printing money via their QE scheme and as such, the question is, when will the stimulus end? The Eurozone economy has surprised to the upside this year and inflation has improved. Thus, the end of the QE program could occur ahead of schedule and traders will be listening intently today for any hints thereof.
So, before you make that tee time or head out to the beach with the kids, it might be a good idea to check the newswire for what the two Fedheads had to say.
Thought For The Day:
My will shall shape my future. Whether I fail or succeed shall be no man's doing but my own -Elaine Maxwell
Current Market Drivers
We strive to identify the driving forces behind the market action on a daily basis. The thinking is that if we can understand why stocks are doing what they are doing on a short-term basis; we are not likely to be surprised/blind-sided by a big move. Listed below are what we believe to be the driving forces of the current market (Listed in order of importance).
1. The State of the Trump Administration/Policies
2. The State of the Economic/Earnings Growth (Fast enough to justify valuations?)
3. The State of Geopolitics
4. The State of Fed Policy
Wishing you green screens and all the best for a great day,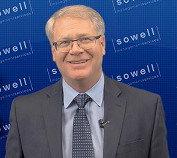 David D. Moenning
Chief Investment Officer
Sowell Management Services
Disclosure: At the time of publication, Mr. Moenning and/or Sowell Management Services held long positions in the following securities mentioned: none. Note that positions may change at any time.
---
Disclosures
The opinions and forecasts expressed herein are those of Mr. David Moenning and may not actually come to pass. Mr. Moenning's opinions and viewpoints regarding the future of the markets should not be construed as recommendations. The analysis and information in this report is for informational purposes only. No part of the material presented in this report is intended as an investment recommendation or investment advice. Neither the information nor any opinion expressed constitutes a solicitation to purchase or sell securities or any investment program.
Any investment decisions must in all cases be made by the reader or by his or her investment adviser. Do NOT ever purchase any security without doing sufficient research. There is no guarantee that the investment objectives outlined will actually come to pass. All opinions expressed herein are subject to change without notice. Neither the editor, employees, nor any of their affiliates shall have any liability for any loss sustained by anyone who has relied on the information provided.
The analysis provided is based on both technical and fundamental research and is provided "as is" without warranty of any kind, either expressed or implied. Although the information contained is derived from sources which are believed to be reliable, they cannot be guaranteed.
David D. Moenning is an investment adviser representative of Sowell Management Services, a registered investment advisor. For a complete description of investment risks, fees and services, review the firm brochure (ADV Part 2) which is available by contacting Sowell. Sowell is not registered as a broker-dealer.
Employees and affiliates of Sowell may at times have positions in the securities referred to and may make purchases or sales of these securities while publications are in circulation. Positions may change at any time.
Investments in equities carry an inherent element of risk including the potential for significant loss of principal. Past performance is not an indication of future results.
Advisory services are offered through Sowell Management Services.