Quick Take: Hope Still in Play
In case there are any questions about what is moving the stock market, yesterday's rally should have cleared things up. Yes fans, expectations for the Trump Administration to effect changes to the tax code remains a primary driver of stock prices.
With the market teetering on the brink of an important technical breakdown (I'm of the mind that a sustained move below 2320 on the S&P 500 would embolden the bears), stocks suddenly rallied yesterday on comments from Steven Mnuchin regarding the outlook for the development of tax reform legislation.
Recall that up until just recently, Mnuchin had been saying he wanted a tax plan passed before August's Congressional recess. But then on Monday, the Treasury Secretary told the Financial Times that getting a bill to the President's desk before August was "not realistic at this point."
However, yesterday, Mnuchin put hope back on the table saying that the administration is close to bringing forward "major tax reform" and that the White House will unveil a plan "very soon." And despite the fact that the Trump administration has already missed several deadlines for developing its plan, traders took the Treasury Secretary's words as a positive.
So, instead of the S&P chart looking sick and ready for some additional price exploration to the downside due to valuation issues, suddenly the key market index is back in the middle of its recent range.
S&P 500 - Daily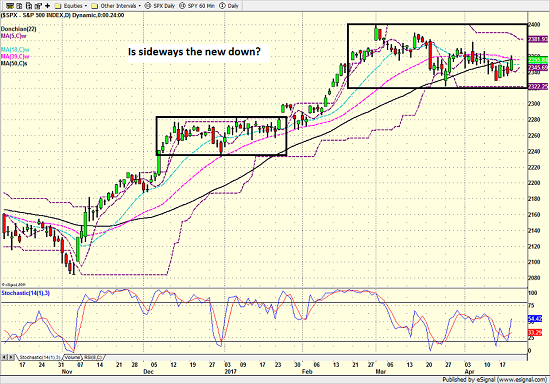 View Larger Image
As such, the bulls argue that what we're currently seeing isn't the beginning of a meaningful correction, rather another sideways consolidation phase. And since sideways has become the new down during the current cyclical bull run, why would we expect anything different here?
So, with China admitting that they buy U.S. stocks every time the market pulls back 1% and hopes for tax reform still running high, the bulls just might have a point here.
Thought For The Day:
What a wise man does at the beginning, the fool does at the end. -Warren Buffett
Current Market Drivers
We strive to identify the driving forces behind the market action on a daily basis. The thinking is that if we can both identify and understand why stocks are doing what they are doing on a short-term basis; we are not likely to be surprised/blind-sided by a big move. Listed below are what we believe to be the driving forces of the current market (Listed in order of importance).
1. The State of Trump Administration Policies
2. The State of Earning Season
3. The State of Geopolitical Issues
4. The State of the U.S. Economy
Wishing you green screens and all the best for a great day,
David D. Moenning
Chief Investment Officer
Sowell Management Services
Disclosure: At the time of publication, Mr. Moenning and/or Sowell Management Services held long positions in the following securities mentioned: none. Note that positions may change at any time.
Looking for a "Modern" approach to Asset Allocation and Portfolio Design?
Looking for More on the State of the Markets?
Investment Pros: Looking to modernize your asset allocations, add risk management to client portfolios, or outsource portfolio design? Contact Eric@SowellManagement.com
---
Disclosures
The opinions and forecasts expressed herein are those of Mr. David Moenning and may not actually come to pass. Mr. Moenning's opinions and viewpoints regarding the future of the markets should not be construed as recommendations. The analysis and information in this report is for informational purposes only. No part of the material presented in this report is intended as an investment recommendation or investment advice. Neither the information nor any opinion expressed constitutes a solicitation to purchase or sell securities or any investment program.
Any investment decisions must in all cases be made by the reader or by his or her investment adviser. Do NOT ever purchase any security without doing sufficient research. There is no guarantee that the investment objectives outlined will actually come to pass. All opinions expressed herein are subject to change without notice. Neither the editor, employees, nor any of their affiliates shall have any liability for any loss sustained by anyone who has relied on the information provided.
The analysis provided is based on both technical and fundamental research and is provided "as is" without warranty of any kind, either expressed or implied. Although the information contained is derived from sources which are believed to be reliable, they cannot be guaranteed.
David D. Moenning is an investment adviser representative of Sowell Management Services, a registered investment advisor. For a complete description of investment risks, fees and services, review the firm brochure (ADV Part 2) which is available by contacting Sowell. Sowell is not registered as a broker-dealer.
Employees and affiliates of Sowell may at times have positions in the securities referred to and may make purchases or sales of these securities while publications are in circulation. Positions may change at any time.
Investments in equities carry an inherent element of risk including the potential for significant loss of principal. Past performance is not an indication of future results.
Advisory services are offered through Sowell Management Services.