Quick Take: Tech Selloff, Economic Data in Focus
Here's your "quick take" on this morning's market...
Yesterday's sudden selloff in tech, the failure of the "skinny repeal," disappointing earnings from both Amazon and Starbucks, U.S. GDP, and the surprisingly good economic data across the pond are in focus this morning.
Let's start with yesterday's dance to the downside in the technology sector. With tech sporting gains of more than 20% on the year, the VIX once again sitting near all-time lows, and some big names set to report after the bell, the sudden and sharp selloff in tech probably shouldn't surprise anyone. In this environment, all it takes is a rumor, a "call" by an influential analyst, or just a decent-sized "ignition algo" to get things moving to the downside. And with both AMZN and SBUX missing earnings, we should probably expect more of the same in the sector today. However, it is important to note that for some time now, all dips have been bought - especially in the tech arena. So, unless there is a fundamental change in the outlook for the sector, investors are likely to come back to tech at some point soon... because this is where the growth is strongest in the market.
On the economic front, the official scorecard for economy - aka gross domestic product, or GDP - grew at an annual rate of 2.6% in the second quarter. While a couple tenths below the consensus estimate, the current rate of growth is up sharply from the 1.2% pace seen in Q1.
In Europe, the economic data was surprisingly strong as France's GDP grew by 0.5% in the last quarter, while Spain's rose 0.9%.
Finally, stocks are modestly lower in the early going on this summer Friday. Not surprisingly, the decline is being led by tech. However, given the ultra-low VIX levels, it will be interesting to see whether the selling picks up or the dip buyers get busy later in the day.
Thought For The Day:
It is better to be defeated on principle than to win on lies. -Arthur Calwell
Current Market Drivers
We strive to identify the driving forces behind the market action on a daily basis. The thinking is that if we can understand why stocks are doing what they are doing on a short-term basis; we are not likely to be surprised/blind-sided by a big move. Listed below are what we believe to be the driving forces of the current market (Listed in order of importance).
1. The State of the U.S. Economic Growth (Fast enough to justify valuations?)
2. The State of Earnings Growth
3. The State of Trump Administration Policies
4. The State of Fed Policy
Wishing you green screens and all the best for a great day,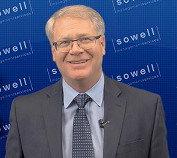 David D. Moenning
Chief Investment Officer
Sowell Management Services
Disclosure: At the time of publication, Mr. Moenning and/or Sowell Management Services held long positions in the following securities mentioned: none. Note that positions may change at any time.
---
Disclosures
The opinions and forecasts expressed herein are those of Mr. David Moenning and may not actually come to pass. Mr. Moenning's opinions and viewpoints regarding the future of the markets should not be construed as recommendations. The analysis and information in this report is for informational purposes only. No part of the material presented in this report is intended as an investment recommendation or investment advice. Neither the information nor any opinion expressed constitutes a solicitation to purchase or sell securities or any investment program.
Any investment decisions must in all cases be made by the reader or by his or her investment adviser. Do NOT ever purchase any security without doing sufficient research. There is no guarantee that the investment objectives outlined will actually come to pass. All opinions expressed herein are subject to change without notice. Neither the editor, employees, nor any of their affiliates shall have any liability for any loss sustained by anyone who has relied on the information provided.
The analysis provided is based on both technical and fundamental research and is provided "as is" without warranty of any kind, either expressed or implied. Although the information contained is derived from sources which are believed to be reliable, they cannot be guaranteed.
David D. Moenning is an investment adviser representative of Sowell Management Services, a registered investment advisor. For a complete description of investment risks, fees and services, review the firm brochure (ADV Part 2) which is available by contacting Sowell. Sowell is not registered as a broker-dealer.
Employees and affiliates of Sowell may at times have positions in the securities referred to and may make purchases or sales of these securities while publications are in circulation. Positions may change at any time.
Investments in equities carry an inherent element of risk including the potential for significant loss of principal. Past performance is not an indication of future results.
Advisory services are offered through Sowell Management Services.