Not a Crystal Ball, But...
In yesterday morning's market missive, I opined that investing based on one's "view" of what might happen next in Ms. Market's game is not exactly a path to success. However, I also suggested that having a "view" can be helpful when it comes time to pull the trigger on a trade or a change in your portfolio.
By this, I mean that if my view of the market is negative and then my models flash a bunch of sell signals, it becomes easier from an emotional standpoint to make the move necessary to preserve capital - and vice versa.
It is for this reason that I closely follow a cycle composite developed by Ned Davis Research Group. Long-time readers can skip ahead and forego the what's and why's regarding the cycle composite. But if you find yourself scratching your head about the concept of a "cycle composite," let me "esplain" what I'm talking about here.
The basic premise is that markets tend to travel in cycles. And although everyone knows that history doesn't repeat, as the saying goes, it does often rhyme. So, the bright folks at NDRG have developed a series of cycle charts for the stock market going back to 1928. There is the one-year seasonal cycle. The four-year Presidential cycle. And the ten-year decennial cycle. Then, in an effort to make the analysis of the various cycles easier to follow, NDRG created a mashup, by combining the three historical cycles into one. They call this the cycle composite.
I've been using this analysis in my daily work for more than 15 years. What I've found is that more often than not, the stock market tends to follow the general trend of the cycle composite - from a longer-term, big-picture perspective. Sure, there are lots of times (such as January and early February of this year) when the market gets out of sync with the historical trends and the projection of the cycle mashup becomes useless. However, it is important to note that when the cycle projection is "on," it can be scary good at predicting what is going to happen next.
The premise here is that if we have some idea of what "could" be coming down the pike, it might make preparing for the next move easier or less stressful. And the bottom line is this is why I look at the cycle mashup on a daily basis.
So... Let's take a look at what the rest of the year in the stock market might look from the cycle mashup's point of view.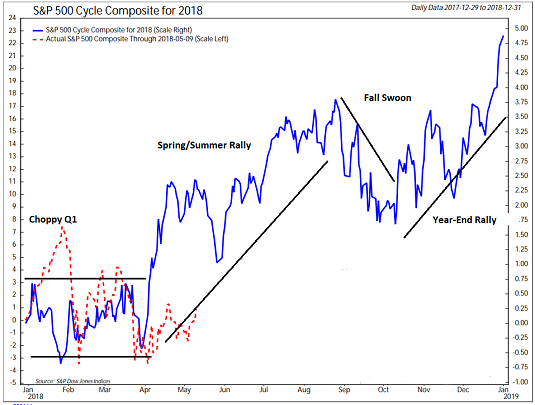 Source: Ned Davis Research
View Larger Image Online
First, the bad news. As you can see by comparing the red dashed line (which is the actual movement of the S&P 500), to the blue line (which is the cycle composite projection), the market isn't exactly in sync with the historical cycles at the present time.
Instead of the blow-off rally that occurred in January, the cycle composite projected a decline in the first half of the month. This was to be followed by some choppy, sideways action into the end of Q1.
While the market was out of sync in January, it quickly got back in tune with the projection during February and March. But then, just to keep this year uber-interesting, the market failed to live up to the projected rally in April. As such, I'll have to say that the S&P 500 is currently out of sync with the cycles again.
But rest assured, this can change quickly. So, no matter how out of whack things may become, I've learned that it is a good idea to pay attention to what the cycles call for next.
On that score, it is worth noting that stocks have historically rallied during the late-spring and summer periods. From there, we get the traditional "fall swoon," which, of course, is followed by the usual year-end rally.
It is also worth mentioning that the remaining cycles in 2018 are projected to be fairly choppy. But the key is that based on data going back to 1928, the historical cycles project that stocks will finish with a gain. Granted, the ride won't be smooth. But let's remember that last year's silky-smooth ride was the exception and not the norm.
Again, I would not base investment decisions on the cycle composite alone. But it has, on occasion, helped me to be better prepared for the next move, which in this case, is projected to be higher. Fingers crossed!
Thought For The Day:
Continuous effort -- not strength or intelligence -- is the key to unlocking our potential. -Liane Cardes
Wishing you green screens and all the best for a great day,

David D. Moenning
Founder, Chief Investment Officer
Heritage Capital Research

HCR Focuses on a Risk-Managed Approach to Investing
Must Read: What Risk Management Can and Cannot Do

HCR's Financial Advisor Services

HCR's Individual Investor Services

Questions, comments, or ideas? Contact Us
At the time of publication, Mr. Moenning held long positions in the following securities mentioned: none - Note that positions may change at any time.
---
Disclosures
The opinions and forecasts expressed herein are those of Mr. David Moenning and may not actually come to pass. Mr. Moenning's opinions and viewpoints regarding the future of the markets should not be construed as recommendations. The analysis and information in this report is for informational purposes only. No part of the material presented in this report is intended as an investment recommendation or investment advice. Neither the information nor any opinion expressed constitutes a solicitation to purchase or sell securities or any investment program.
Any investment decisions must in all cases be made by the reader or by his or her investment adviser. Do NOT ever purchase any security without doing sufficient research. There is no guarantee that the investment objectives outlined will actually come to pass. All opinions expressed herein are subject to change without notice. Neither the editor, employees, nor any of their affiliates shall have any liability for any loss sustained by anyone who has relied on the information provided.
Mr. Moenning may at times have positions in the securities referred to and may make purchases or sales of these securities while publications are in circulation. Positions may change at any time.
The analysis provided is based on both technical and fundamental research and is provided "as is" without warranty of any kind, either expressed or implied. Although the information contained is derived from sources which are believed to be reliable, they cannot be guaranteed.
Investments in equities carry an inherent element of risk including the potential for significant loss of principal. Past performance is not an indication of future results.