Is It Time For Investors To Exhale?
As I have mentioned a time or two lately, I have been trying not to write on Friday's. However, I must admit that I'm feeling a small (emphasis on the word, small) amount of guilt over the idea of heading to Spain/Portugal for the next two weeks. So, I'm going to go ahead and pen one more missive before shifting into vacation mode in a couple hours.
The theme I'd like to touch on here is the collective sigh of relief that investors and traders alike appear to be enjoying at the present time.
Yes, Bear fans, I am aware that the bulls are not out of the woods and that the S&P 500 is just 5.5% off the low of this corrective phase. But c'mon, even the staunchest bear will have to admit that the recent rally has improved the mood a bit.
From a technical perspective, there are definitely some good things happening. Let's review.
First, and perhaps most importantly, there is the fact that the closing-basis downtrend, which had been intact since January 26 and indicated on the chart below in red, has been broken - decisively.
S&P 500 - Daily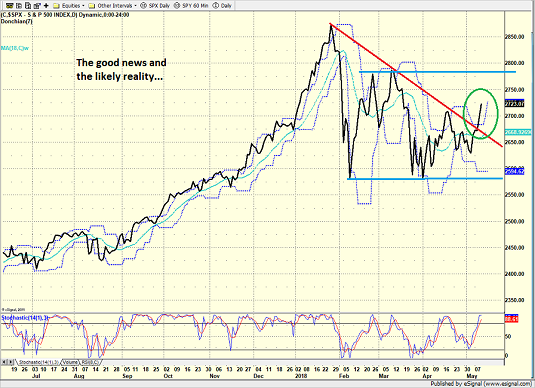 View Larger Image Online
While I can and will argue that technical analysis is more art than science (and more so with each passing year), I also like the fact that the S&P has now made a "higher high" to match the recent string of "higher lows" on the chart. Yes, I know that this is simple stuff. But the bottom line is this means the downtrend has been broken. Sure, it could always reassert itself. But for now at least, the bulls have a decent technical argument going in their favor.
Next, I think it is important to point out that the small-caps (as defined by the iShares S&P Small-Cap ETF - IJR) broke out to a new high yesterday. Yes, I see the potential triple-top formation. And yes, I recognize that it would be negative if the IJR were to suddenly dive back into the range. But, given that the small-caps have been the leaders of late, the bulls have to be pleased to see a fresh new high here.
Speaking of new highs, I'm informed that the NYSE's cumulative advance/decline line also closed at a new all-time high on Thursday. Go ahead, try and tell me that this is a negative in disguise; I dare you.
Things are looking up over in four-letter-land as well. If my calculator is correct, I note that the NASDAQ 100 has recovered the majority of its recent decline and as of yesterday, is just 2.35% from the last all-time high set in March.
And then there is the fact that volatility is declining. In fact, the VIX is clearly in a downtrend and fell to its lowest level since January on Thursday.
Next, correlations are falling. Remember, during times of market stress, correlations among stocks, sectors, regions, and even asset classes tend to spike as most everything except government bonds moves as one with the S&P 500. However, we are starting to see leaders and laggards again, and individual stocks are not all acting the same here. This suggests that the market may indeed be exiting crisis mode.
And finally, I think it is worth noting that the improved mood in the market hasn't been driven by any sudden headline, newsflash, or tweet. And from my perch, this is a good thing.
Why The Improved Mood?
While Ms. Market can change her mind at the drop of an algo, things just "feel" better here. And I think investors have both the earnings parade and this week's benign inflation data to thank for their improving account balances.
By now, I'm sure you are all aware of the fact that the current earnings season has been stellar. And yes, stocks haven't really seen the instant gratification for their strong numbers this time around. My guess is this had a lot to do with the uncertain environment in relation to geopolitics, the drama in D.C., trade, rates, the Fed, and inflation.
On the latter note, there can be little argument that inflation pressures are percolating. However, this week's CPI/PPI showed that inflation remains contained. In short, I'm surely not the only one who believes the inflation reports sported a Goldilocks feel this week.
So, will it be onward and upward from here? Frankly, I doubt it. There are simply too many landmines out there to think that investors will simply hit the buy button all day, every day - or that traders won't find something to freak out over in the coming months.
However, I am feeling a lot better about my view that the corrective phase will ultimately be resolved to the upside. As such, I'm going to exhale a bit here and get ready to go exploring on the other side of the Atlantic!
Publishing Note: I am vacationing for the next two weeks and am going to try and stay away from the keyboard as much as possible. Thus, I will publish reports only if time and circumstances permit.
Thought For The Day:
Time you enjoy wasting, was not wasted. -John Lennon
Wishing you green screens and all the best for a great day,

David D. Moenning
Founder, Chief Investment Officer
Heritage Capital Research

HCR Focuses on a Risk-Managed Approach to Investing
Must Read: What Risk Management Can and Cannot Do

HCR's Financial Advisor Services

HCR's Individual Investor Services

Questions, comments, or ideas? Contact Us
At the time of publication, Mr. Moenning held long positions in the following securities mentioned: IJR - Note that positions may change at any time.
---
Disclosures
The opinions and forecasts expressed herein are those of Mr. David Moenning and may not actually come to pass. Mr. Moenning's opinions and viewpoints regarding the future of the markets should not be construed as recommendations. The analysis and information in this report is for informational purposes only. No part of the material presented in this report is intended as an investment recommendation or investment advice. Neither the information nor any opinion expressed constitutes a solicitation to purchase or sell securities or any investment program.
Any investment decisions must in all cases be made by the reader or by his or her investment adviser. Do NOT ever purchase any security without doing sufficient research. There is no guarantee that the investment objectives outlined will actually come to pass. All opinions expressed herein are subject to change without notice. Neither the editor, employees, nor any of their affiliates shall have any liability for any loss sustained by anyone who has relied on the information provided.
Mr. Moenning may at times have positions in the securities referred to and may make purchases or sales of these securities while publications are in circulation. Positions may change at any time.
The analysis provided is based on both technical and fundamental research and is provided "as is" without warranty of any kind, either expressed or implied. Although the information contained is derived from sources which are believed to be reliable, they cannot be guaranteed.
Investments in equities carry an inherent element of risk including the potential for significant loss of principal. Past performance is not an indication of future results.